Executive Summary
Between the two competitors under review, 13 unique features have been identified that may be of interest for inclusion in the twoPLUGS mobile app.
These features can be grouped in two categories, "Gamification" and "Quality of Listings".
Gamification refers to the use of game-mechanics to encourage specific behaviors – ie sign up, verify phone number and visit the site more frequently.
Quality of Listings includes elements that help customers make better trading decisions.
Gamification
Simbi: Deal Suggestions Displayed on Guest Homepage
When new users visit, the Simbi app cycles through a list of trading suggestions that appear to be live trades.
This feature helps make the marketplace appear dynamic and alive, drawing in new users.
Once a new user has registered these messages no longer appear.
The features in this section are related to game-mechanics that are used to increase user engagement.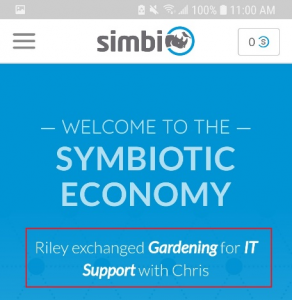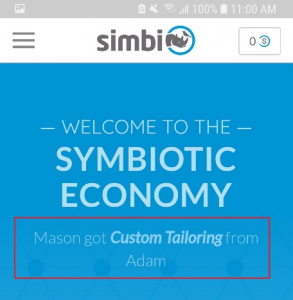 Simbi: Skill Quiz
• New users are encouraged to complete a brief skill quiz to help them identify their own abilities.
• If the quiz fails, the user is advised to contact the Simbi Team directly.
• This is useful for helping new users get started offering skills they may not have thought of on their own.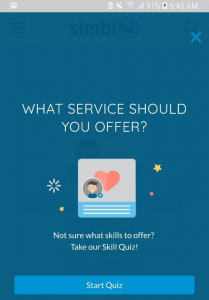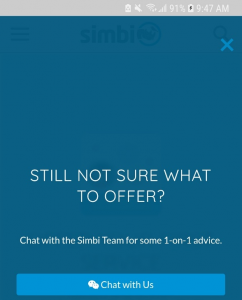 Simbi: Badges
Simbi uses Badges to incentivize participation.
Available Badges are:
Quickster – users who are the quickest to respond
Star – fulfilled other users request
Helper – fulfilled other users request
Circulator – transferred large amounts of simbi points
Social – member has attended a simbi swap
Veteran – member has made at least 3 deals
Recruiter – member has gotten 5 or more members to join
Talented – offered 5 or more services
Centurion – member with more than 100 deals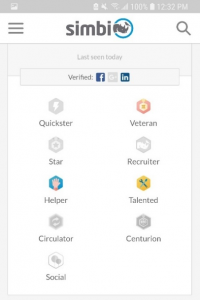 Bunz: Daily BTZ drop Questionnaire
Bunz uses a cryptocurrency called BTZ and includes an integrated wallet in their app.
Bunz hosts a daily BTZ giveaway.
By offering BTZ for completing a brief quiz at specific times, Bunz incentivizes users to return to the service daily and accumulate BTZ.
The data collected via quiz can potentially be monetized.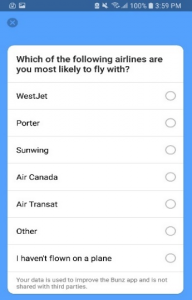 This accomplishes greater personalization and use profiling.
Bunz: Post Freshness
Bunz displays the time each posting was made.
By displaying the posts freshness, the listing appears more authentic and creates a sense of connection between users.
Users can easily recognize inactive accounts or listings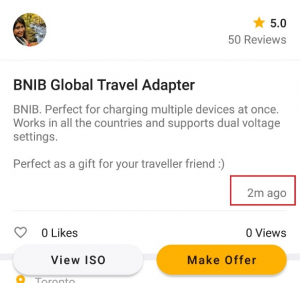 Simbi: Verified – Facebook/LinkedIn (Badges)
Simbi allows for account verification using Facebook, Google + and LinkedIn.
Members link social accounts to attain verified status.
By supporting these options Simbi encourages trust, familiarity and a sense of accountability.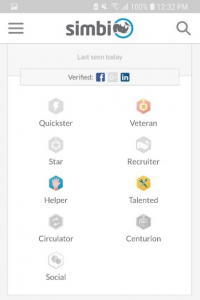 Bunz: Integrated BTZ Wallet
The Bunz app contains an integrated cryptocurrency wallet.
This allows users to send and receive BTZ in real-time by scanning a QR code.
Within the wallet users also have the option to earn BTZ through referrals.
New users are encouraged to activate their wallet before they can transact through the service.
The activation process also verifies the phone number associated with the account in way that's smooth and frictionless.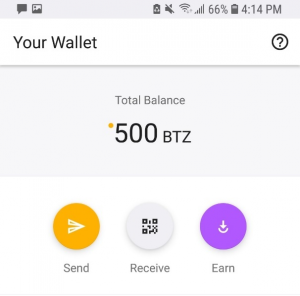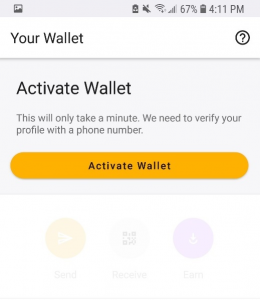 Quality of Listings
The following features allow customers to make better decisions by identifying qualities they value in traders.
Simbi: Quality – Training & Qualifications
By providing an optional Training & Qualifications section, Simbi makes it easier for new users to make trading decisions.
Providing Training & Qualifications increases user confidence and is more likely to end in a successful trade.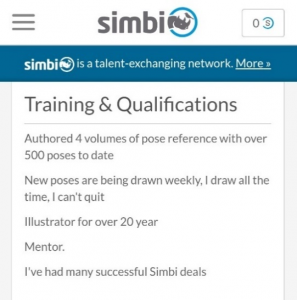 Simbi: Quality – Availability and Preferences
Availability & Preferences highlights the best times to contact a user as well as the type of trade they would prefer to make.
This can help prospective buyers make better decisions based on convenience.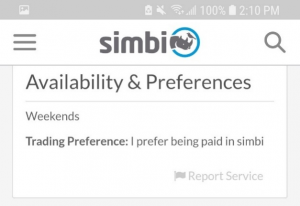 Simbi: Quality – Set Your Quota
Simbi recommends that users set a quota for the number of times a month they can perform a service.
By setting a quota, users avoid over-committing which results in better customer service and ratings.

Bunz: Google Maps View
Bunz provides users with a Google Map view of the trader's location.
This creates a sense of familiarity, trust and community and helps users make trading decisions.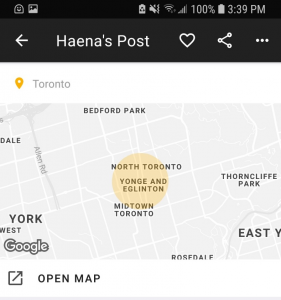 Simbi: Last Seen
The "Last Seen" counter on Simbi indicates when the user last logged on to the service.
This creates a sense of personalization and helps identify active traders, allowing users to make better trading decisions.
This feature is similar to twoPLUGS "Update" value but "Last Seen" is more descriptive.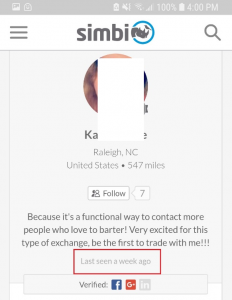 Simbi: Response Rate
Response rate indicates the percentage of messages that the user has responded to.
Response rate can be a leading indicator of reputation that can translate into a buying signal for new users by giving them confidence.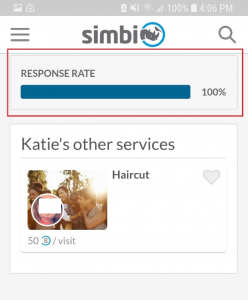 Recommendation
Monetization
Neither Simbi nor Bunz currently charge fees for their use. Without a clear monetization strategy apparent in the app, it's likely that they've monetizing user data.
Customer Profiling
In the case of Bunz, the daily BTZ giveaway requires customers to provide personal information regarding various products and services. This could be the most practical way forward as online customers are generally quite reluctant to pay for digital services.
Subscription Fees
Subscription fees could be charged by twoPLUGS; however, care would have to be exercised in deciding which users to charge. In the case of school groups, students may be more price-sensitive but perhaps the school itself can be charged. The same could apply to other groups, where the owner of a custom twoPLUGS trading forum could be pay a fee to host the service.
Customizable Themes
Customizations to the app could be monetized as well, so that the twoPLUGS trading platform could be accessed free of charge, but visual customizations to the platform could come with an associated cost. These themes could be professional, ethnic or religious.
Account Packages
Various sized account packages could be made available in order to accommodate communities of different sizes. There could be a smaller account package including up to 500 users with larger accounts available for a separate fee. This feature may require an administrative dashboard so admins can keep track of their community's growth.
Approach
The features listed below can be addressed in order of complexity and value. Depending on the interest in taking on high or low complexity first, they can be approached according to the following table.
| | | |
| --- | --- | --- |
| Element | Complexity | Value |
| Deal Suggestions Displayed on Guest Homepage | Low | Low |
| Post Freshness | Low | Low |
| Badges | Medium | Medium |
| Verified – Facebook/LinkedIn (Badge) | Medium | High |
| Quality – Training & Qualifications | Low | Medium |
| Quality – Availability and Preferences | Low | Medium |
| Quality – Set Your Quota | Low | Medium |
| Google Maps View | Medium | High |
| Response Rate | Medium | High |
| Last Seen | Low | High |
| Skill Quiz | High | Medium |
| Daily BTZ drop Questionnaire | High | Medium |
| Integrated BTZ Wallet | High | High |